Thank you for your participation in our 2020 Paint Gwinnett Pink. With your contributions, either as an event participant or through your donations, we collected more than $500,000! We couldn't have done this without you.
Congratulations to our Top Fundraising Team GCAC who raised over $2500.
Congratulations to our Top Individual Fundraiser Evette Smith who raised $1169!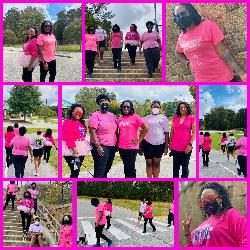 (That is Evette in the tutu!)
Although the event is over the Donations section of our website will remain open through December 31, 2020.

Did you win a medal? (Remember, this year our winners were from a random draw.) Check out our website "Race Information" page. If you won contact Jennifer Griffin, jennifer.griffin2@northside.com, to make arrangements to pick up your medal. Did you register as a participant but haven't picked up your t-shirt? Contact Jennifer. Want extra t-shirts? Contact Jennifer as she does have some extras. Shirts are available for $20/each.

Thinking about our 2021 event already? Mark your calendars as we will be back for our sixth year on October 23, 2021. We hope to see you then!
Special event announcement: We are excited to announce the generous donation of $390,000 from Clyde and Sandra Strickland. These funds will be used to purchase Digital Breast Tomosynthesis (3D mammography) equipment to be used at Northside Hospital Gwinnett's Breast Center.
The Paint Gwinnett Pink team and Northside Hospital would like to thank the Strickland's for their continued support throughout the years.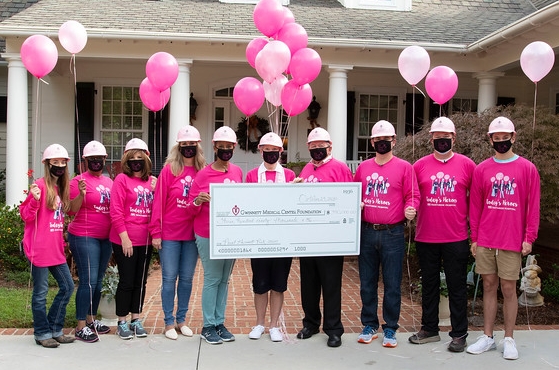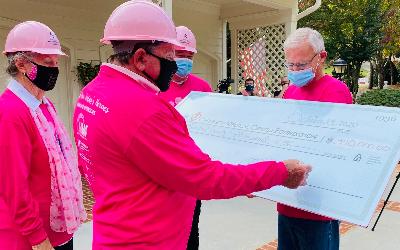 If you missed our events visit our Facebook and YouTube channels for the videos.
Online Warm up Exercises and Survivor Spotlight is at:
facebook.com/NorthsideHosp
Main Event video, both our virtual opening ceremony and speakers, is at both
Link to FaceBook Main Event broadcast
Link to YouTube Main Event broadcast
Awards Ceremony is at both:
Link to Facebook Awards Ceremony broadcast
Link to YouTube Awards Ceremony broadcast
A list of our award winners is posted on our Race Information page.
Recap of our 2020 event: This was our

fifth

annual Paint Gwinnett Pink 5K Walk/Run for Breast Cancer. Due to COVID-19, our 2020 event went virtual!

V

irtual participation began with your registration and continued up through our "virtual finals" on Saturday, October 24, 2020.
How did this event work? Through your videos and photos, you showcased your participation or your team's participation, whether running or walking or sitting at home, which was then shared on our social media channel.
And winning couldn't have been easier! During our "virtual finals" our race coordinators pulled names from our Participants Drum and presented awards by gender and age category.
Money raised from the event celebrating Breast Cancer Awareness month will benefit local cancer survivors and the Northside Gwinnett and Northside Duluth Breast Centers.

Today's Heroes
In a time when we are all looking for Heroes, each of us can be a hero by supporting Paint Gwinnett Pink.
What is Paint Gwinnett Pink?
This is more than just a walk - whether real or virtual.
Northside Hospital Gwinnett hosts the Paint Gwinnett Pink 5K Walk/Run every October. The event is the largest 5K supporting breast cancer in Gwinnett County. It is a celebration of survivorship, while raising awareness and funds for breast cancer programs at Northside Hospital Gwinnett.
Don't miss this opportunity to make a positive difference in the fight against breast cancer!